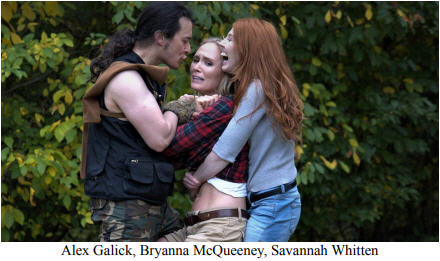 "One Of The Top Ten Thriller Movies Coming Out In 2023"
- The Best Movies Ever
WHO: Mannatee Films (www.mannateefilms.com)
WHAT: Red Carpet World Premier of Robert Mann's latest psychological thriller, R BnB.
WHEN: Wednesday February 8, 2023 at 7:30pm PST - Red Carpet 6:15 PST.
WHERE: Historic Bruin Theatre, Westwood Village - California (5 min. from UCLA)
TEAM: Directed by Robert Mann (The Pumpkin Karver), Producers: Les I. Goldman, (The Soldier:
Search For Existence), Dan Harris, (The Pumpkin Karver), and Gloria Mann (The Cassie Confession).
STARRING: The film stars Bryanna McQueeney (Sherlock Holmes), Ryon Thomas (Surviving the
Carte), Gloria Mann (Point Break, The Lennon Report), Savannah Whitten (Impossible Monsters), Alex
Galick (The Harbinger), Agnes Artych (Lipstick Traces), Marco Reese-Maldonado (Mutilator 2).
SYNOPSIS: A wealthy Manhattan couple celebrates their first year anniversary at a secluded Airbnb,
only to realize they are being secretly videotaped. But why?
TICKETS: https://www.regencymovies.com
For interviews and comps to premiere, contact Jay Dillen – Public Relations (jaydillen@gmail.com)