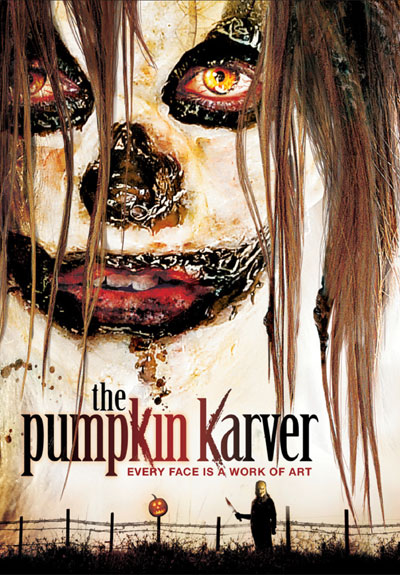 The Pumpkin Karver
After mistaking him for a masked killer, Jonathan fatally stabbed his sister's boyfriend on Halloween. One year later to the day, the siblings find themselves fighting for their lives against a very familiar masked murderer.
DIRECTOR
Robert Mann
WRITER
Robert Mann
Sheldon Silverstein
CAST
Michael Zara
Lynn Starks
Brian Kary
Bryan Jamerson
David J. Wright
Terrence Evans
Johnathan Conrad
Jared Show
David Austin
Mistie Adams
Charity Shea
Briana Gerber
Alex Weed
David Phillips
Amy Cowieson
Amber Kendrella
Thomas Hurn
Minka Kelly
Lindsey Carpenter
Rachelle Clune
The Duet Poets
Micah Plissner
Steve Grindle
Rob Murieta
Kenny Gould
Jack Spear
Dan Harris
Tony Little
LuLu Ashbrook
Travis Ashbrook
Jordan Boucher
Autumn Burgis
Mikey Lanza
Grant Stark
Barry White
Jacob Burgis
Matthew Burgis
Nick Heberie
Ashley Lanza
Lindsey Reeves
Taylor Stephens
David Stark
Robert Mann
Kailea Brown
Lisa Munz
Kristina Munz
PRODUCERS
Gregory Beard – Associate Producer
Don Blakstad – Executive Producer
Eve Brandstein – Associate Producer
Phil Fagan – Executive Producer
Dan Harris – Line Producer
Sheldon Silverstein – Producer
Amy Weber – Associate Producer
Straw Weisman – Associate Producer
Original Music
David Kowal
Cinematography
Phillip Hurn
Film Editing
Phillip Hurn
Casting
Suzie Magrey
Production Design
George Stokes
Art Direction
Marc Atkin
Enrique Beingolea
Costume Design
Kira
Make Up Department
Leah Renee Amara – Assistant Makeup Artist
Martin Astles – Special Makeup Effects Artist
Alyson Black Barrie – Assistant Hair Stylist (as Alyson Black)
Jeff Colbert – Special Effects Makeup Supervisor
Kevin Murnane – Special Makeup Effects Artist
Alex Noble – Special Makeup Effects Artist
Andrea Peroni – Key Makeup Artist
Christine Regan – Key Hair Stylist
Art Department
Marc Atkin – Construction
Jimmy Image – Props
Sarah Polaczyk – Set Dresser
Frank Rosen – Property Master
Lance Slepicoff – Set Dresser
Sound Department
Ian Andra – Boom Operator
Dean Andre – Sound Re-Recording Mixer
Bastien – Boom Operator
Noel Bastien – Boom Operator
Christopher Cain – Sound Effects Editor
Darrell Hanzalik – Adr Editor
Darrell Hanzalik – Foley Mixer
Linda Langridge – Assistant Sound Editor
Donald Lyles – Adr Mixer
George Nemzer – Sound Designer
Vic Radulich – Dialogue Editor
Eddie Rogers – Adr Mixer
Eddie Rogers – Sound Re-Recording Mixer
Clancy T. Troutman – Sound Re-Recording Mixer
Clancy T. Troutman – Supervising Sound Editor
David John West – Sound Re-Recording Mixer
Scott Westley – Sound Effects Editor
Visual Effects
Ken Busick – Visual Effects
Harry Hendrickson – Visual Effects
Michael Webber – Visual Effects Supervisor
Stunts
Scott Blackwood – Stunt Coordinator
Richard Dorton – Co-Stunt Coordinator
Raliegh Wilson – Co-Stunt Coordinator
Camera/Electrical
Jonathon Carmichael – Key Grip
Kenny Hanson – Assistant Camera
Serdar Kalsin – Assistant Camera
Dave Kanehann – Camera Operator
Lisa Wolfson – Second Assistant Camera
Editorial Department
Evans Butterworth – Post-Production Video Executive
Music Department
Bart Hendrickson – Composer: Additional Music
Other Crew
Phoenix Alexander – Production Coordinator
Phoenix Alexander – Script Supervisor
Ann Nicol – Production Coordinator
David Albert Pierce – Production Counsel
Patrick Smith – Location Manager
Thanks
Craig Kaminski – Special Thanks
Videos: The Pumpkin Karver
The Pumpkin Karver
The Pumpkin Karver continues its annual airing on SyFy's 31 Days of Halloween during the month of October (2013). The film, written and directed by Robert Mann, airs three times, the last on Halloween at midnight (PST). http://www.syfy.com/schedule/?search=31+days+of+halloween+movie
The Pumpkin Karver is currently playing on SYFY's 31 Days of Halloween.
Robert Mann's horror film, The Pumpkin Karver is currently being played on Showtime and The Sci-Fi channel. The film is also available on NetFlex and at Blockbuster.