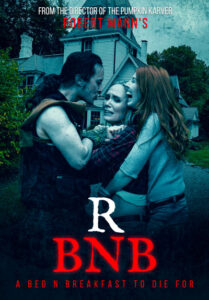 Please visit the Regency Theater site to purchase tickets for Mannatee Films Red Carpet Premier of our latest thriller, "R BnB".
The film will screen at the historic  Bruin theater in Westwood, CA Wednesday February 8th at 7:30pm.  Red carpet begins at 6:15pm.  There is limited seating so get your tickets ASAP.
The film stars Bryanna Christine McQueeney, Ryon Thomas, Gloria Mann,  Savannah Whitten, Alex Galick, Marco Reese Maldonaldo, and Agnieszka Artych
Written and Directed by Robert Mann.
Produced by Les Goldman, Dan Harris, Gloria Mann and Robert Mann.  Executive Producers, Eve Brandstein Linda Kilpatrick and Frank Kilpatrick.   Line Producer Darya Danesh. Associate Producers, Mike Leven, Miller Hughes, Joan Gray.
Director of Photography Al Satterwhite, Music Bart Hendrickson Casting by Suzie Magrey, Make-Up Celina McAleer, Costume Designer, Kira Olander, Sound Designer, Kenny Klimak, Stunt Coordinator, Scott Blackwood.